Co-funded: European Union, Erasmus+ Program – Key Action 1, Mobility of youth workers
Period: 01.01.2018 – 30.06.2018
Place: Puerto de la Cruz, Tenerife, Spain
Context: According to the Eurostat data, young people aged 18 to 24 are the most likely to be at risk of poverty or social exclusion (31.90% were at risk in 2014). Moreover, this situation has not improved compared since 2010. As the 2015 EU Youth report shows, nearly all Member States took measures in previous years to counteract the growing social exclusion of young people in Europe.
There is a gap in the problem identified at European level related to inclusion aspects and the practice of implementing human rights activities with and for young people. In this regard, the main purpose of this project is to cover the gap mentioned above and to enhance the quality and sustainability of human rights related activities of youth organizations throughout Europe.
Objectives:
To enhance individual skills and competencies of 22 youth workers from 5 different EU countries within a 12 days training course in relation to human rights issues
To establish quality approaches in human rights related projects for 6 organizations working with young people with fewer opportunities in Europe.
Direct beneficiaries: 22 people from Spain, Greece, Italy, Germany, and Croatia, with experience in working with disadvantaged groups as trainers, youth workers, social workers, and workers in the field of youth, youth leaders and project managers, tutors and volunteer coordinators and/or coordinating EVS program.
Activities:
Training course, 04.03.2018 – 17.03.2018, will answer the needs of the participants to further develop the knowledge in the area of human rights education, by offering them concrete inclusion methods in a non-formal context and the chance to experience the skills gained in real life situations in their local communities.
The event, on the 14th of March 2018 from 6 pm, called "Perspectives on human rights", that will ask the audience to reflect on the different situation of human rights violation in our contemporary life. Will be used methods of social intervention, like social theatre, and photovoice, all in English, prepared by the participants at the European training course #yeshumanity.
The event is being organized with the help of Compañía de Aguas Fuente Azul, S.L. and Casa de la Juventud del Puerto de la Cruz, that has offered us the space to make the activity.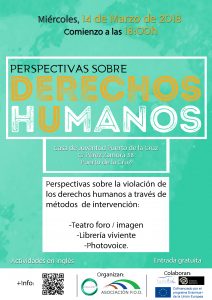 Photos:
More photos on our Facebook
Videos
Partners:
YOUNET
Udruga gluhih i nagluhih Nova Gradiska
United Societies Of Balkans Astiki Etaireia
Jugend, Bildung und Kultur – JuBuK
Asociación Egeria Desarrollo Social